Over the past 2 months or so, I decided to make two 2004 calendars, something that I've been wanting to do for a while--and was determined to get done before the new year.
I wanted to do two calendars centered around two of my favorite things about XWP: Xena/Ares and Argo.
Shipper 2004 Calendar
Argo 2004 Calendar
Enjoy!
~Aurora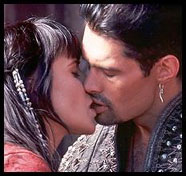 Ares: "It's amazing the difference when you don't resist me."
Xena: "Amazing..."

(Chakram)