Over the past couple of days, I've been watching the 1st season (with my new DVD's
) ep by ep and I'm really seeing a pattern here. Why do you suppose TPTB chose to have Gabrielle falling for a different guy nearly every episode? It got a little repetitive, if you ask me and a bit boring.
Whether it was just some guy off the street (so to speak) or it was someone that either we or Gabrielle already knew (like Iolaus and Perdicus), it still felt like she was into a lot of guys in the first season.
Let's break this down.
She falls for a guy in:
- "Chariots of War"
- "The Titans"
- "Prometheus"
- "Death In Chains"
- "Beware Greeks Bearing Gifts"
- "A Fistful of Dinars"
True, it doesn't look like that many episodes when I look at it now, compared to the 24-ep season, but still, I found it a bit repetitive.
Did anyone else feel the same? And why do you suppose they chose to do this?
This idea did continue into later seasons (it did seem to be a pattern that people were always falling for Gabby - Najara, Joxer, Brunhilda, Beowulf etc) but I think it was at least more spread out later on. It just seemed like, in the 1st season, Gabby was always trying to find that one person, so she tried a lot with different people.
~Aurora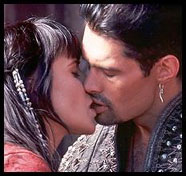 Ares: "It's amazing the difference when you don't resist me."
Xena: "Amazing..."

(Chakram)